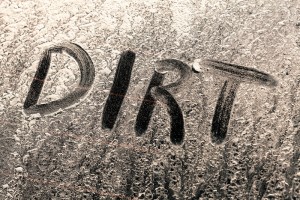 Storm Water Compliance requires Builders, Contractors, Developers, and Municipalities etc. to prevent discharges to both surface and ground water. This jurisdiction also extends to wind born pollutants. Most people picture an oil spill floating on top of the Pacific or Atlantic, but did you know that one of the biggest culprits to contaminating water quality is DIRT? This is what is referred to as sediment.
Sedimentation
A product of erosion is sediment. Sedimentation is the build up of soils in places it doesn't necessarily belong, like storm drain systems, gutters, creeks, rivers and ponding basins. Just focusing on the toxic level or exposure to people won't bring the answers as to why sediment can be so damaging. But if you look it in terms of biotic resources and the food chain, the answer is a little easier to see.
Sedimentation Creates Poor Habitat Conditions For All
Sediment in water creates turbidity. Turbidity is the amount of dirt in suspension, in water at any given time. When sediment creates turbidity in water, it is difficult to see through the water, in other words, the visibility through the water decreases as the levels of dirt in the water increases. No big deal unless you are scuba diving right? Wrong. Plants require sunlight to grow, which is basic biology. But the plants that live within the aquatic environments suffer if they cannot get the light they need to photosynthesize and grow. Poor growth and plant life in creeks, rivers, oceans and lakes, creates poor habitat conditions for other aquatic life such as amphibians and fish. It doesn't take too much effort to realize that affecting this part of the food chain eventually works its way to poor habitat for everyone, including humans.
Sedimentation in our ponding basins may appear to be harmless; after all, we don't have the best of habitats behind the chain link fences, but those basins are used to recharge ground water through a method called percolation. When basins fill with fine sediment, they begin to seal the basin like a pond and do not allow water to "recharge" to the ground. This effect will contribute to a lowered water table.
Particulates and Asthma
Lastly, asthma is a condition that is caused by contaminants in the air known as particulates. A majority of particulates are fine particles of sediment that we breathe into our lungs and cannot dislodge. These "fines" create permanent scarring that can lead to a shortened life-span over time.
Wow, all that from dirt? Sometimes, compliance makes sense.